Following the public availability, I had a "special project" to go along with: while talking to my primary source and friend Jorg Czypionka, the story of the night of March 27/28, 1945, was a reappearing topic that needed coverage. And while the book itself covers the night like any other night of combat, I wanted something "more personal".
The night is "special" in many cases - not because of the approx. 80 Mosquitos headed for Berlin - but for the fact that six Messerschmitt Me 262 were scrambled to intercept them. Amongst them - for the very first time - a Messerschmitt Me 262 B-1a/U1, the "Behelfsnachtjäger" [engl. interim Night Fighter].
Four of the Mosquitos were lost - two over the Netherlands, two more west of Berlin where they fell victim to two of the Me 262s. Jorg was one of the pilots downing a Mosquito and it was something that he had to chew on for many years to come. And even today, it bothers him - he looked at me and said "You know, I almost wanted them to see me so they could turn away into the night. The war was almost over - why shooting at two men? The Mosquito was a beautiful bird... but he did not see me and so I opened up."
He never liked the fact that he had to kill that night - so I wanted to find a way to tell his story - it is also the story of Fw. Karl-Heinz Becker (who shot down the second Mossie) and the crews that lost their lifes: F/LT André van Amsterdam (+) and S/LDR Harry Forbes (POW) in MM131, F/O Hudson (+) and F/O Gant (+) in RV326 and F/LT Value (+) and F/O Manning (+) in PF466. Unfortunately (again) in German, Jet&Prop 2/2018 will contain a 10-page article on the events of that night.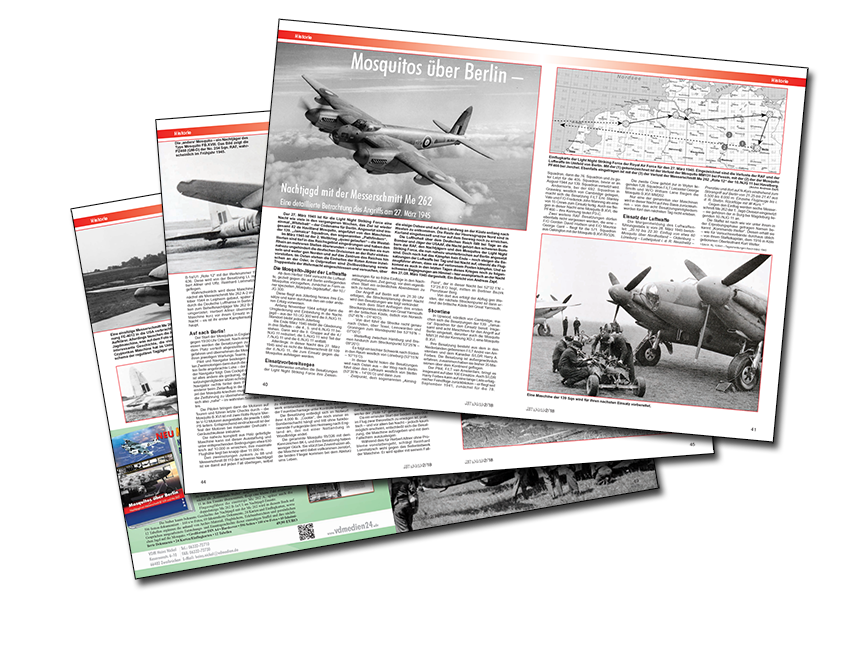 __________________
-----------------------------------------------------------------------------------------------------
Web Sites:
Chronicles of the Luftwaffe
-
Nachtjagd mit Messerschmitt Bf 109 und Me 262
Publications: JG3 - Eastern Front 1941 (
eBook
) - Nachtjagd mit Messerschmitt Bf 109 und Me 262 (Paperback,
German
)
-----------------------------------------------------------------------------------------------------
"Those who cannot remember the past are condemned to repeat it" - (George Santayana)