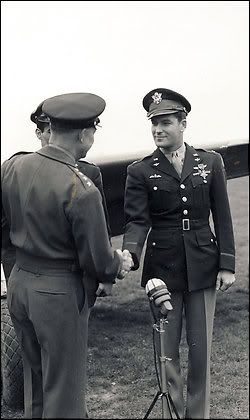 Colonel Donald Blakeslee receives the Distinguished Service Cross from Gen. Dwight Eisenhower April 11, 1944. Colonel Blakeslee was commander of the first American fighter squadrons to reach Berlin during World War II.
Don Blakeslee, assumed command of the 4th Fighter Group 8th Air Force on January 1, 1944.
On March 6, 1944 Blakeslee flew in the first Mustang over Berlin while defending Boeing B-17s and Consolidated B-24s. Escorting the massed daylight raids of the 8th Air Force over Occupied Europe while under Blakeslee's command, the 4th FG became one of the highest scoring groups of VIII Fighter Command.
At the end of the war, the squadron had destroyed 1,020 German planes (550 in flight, and 470 on the ground).
In his autobiography,
Tumult in the Clouds, James A. Goodson
, the top-scoring ace of the 4th Fighter Group, remembered Don Blakeslee: "While no one questioned his talent in the air, many in the top command had less confidence in his behavior on the ground. He had established his reputation at the time of transfer, by choosing the very night before General Hunter's visit to entertain two female WAAF officers in his barrack room. The General started his tour early the next morning. Warned of the approaching danger, the two WAAFs just had time to scramble out the barracks window right into the path of the General and his staff. Told that Blakeslee would be demoted and transferred, General Hunter remarked, 'For one, maybe; but for two! He should be promoted!'"
Blakeslee would eventually be recognized as one of the two finest combat fighter commanders in the history of the United States Air Force
Don Blakeslee passed away on September 3, 2008.